Our Range of Services...
Our modern 5000 sq.ft. Works area has an extensive range of modern machine-tools, plus welding & fabrication facilities, and a dedicated 'clean-area' for the repair, manufacture and pressure-testing of Hydraulic Cylinders.
The Hydraulic Cylinder Specialists of Dublin
IPS Engineering is a Dublin based engineering company serving the Leinster area (Dublin, Kildare, Meath, Wicklow, Carlow, Kilkenny, Laois, Offaly and West-Meath). Centrally located in Cherry Orchard Industrial Estate, Dublin 10 close to the M50, N7 and N4 Motorways.
Services Include:
Specialised Dismantling, Assembling and Pressure Testing Equipment.
Condition-Inspection and Reporting of damaged equipment.
Rebuild and machine damaged Cylinder-Ends and Piston-Rod Ends.
Cylinder Reseals.
Replacement Hard Chrome Piston Rods.
Replacement Pistons.
New Tubes and Glands.
Hydraulic Feed Pipes replaced.
All required machining and welding done "In House" in our 5000 sq/ft workshop.
Large stocks of Quality-Certified Chromed-Rod and Honed-Tube.
All Cylinders are fully Pressure-Tested before despatch.
All Cylinders stamped with Unique ID Numbers.
Note: We can dismantle damaged units to inspect and prepare a Repair Report and Quotation when requested.
IPS Cylinder Facilities:
• Hydraulic Test Unit
Can pressure test all cylinders up to 200 bar
• Dismantling, Assembling and Testing Area
Precision Machine-Shop


Modern Centre-Lathes and Milling Machines use digital-read-out and fast carbide-tooling to produce accurate precision parts quickly - to a high quality.
Large Vertical Borer and Radial Drill accommodate a wide range of parts from small to very large.
Power-Honing; Keyway Cutting & Broaching; Portable Line-Boring equipment.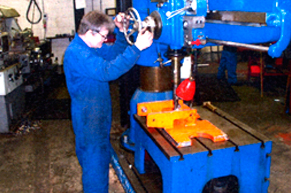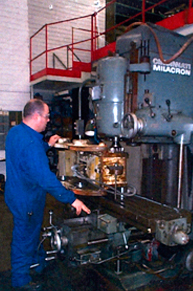 Welding and Fabrication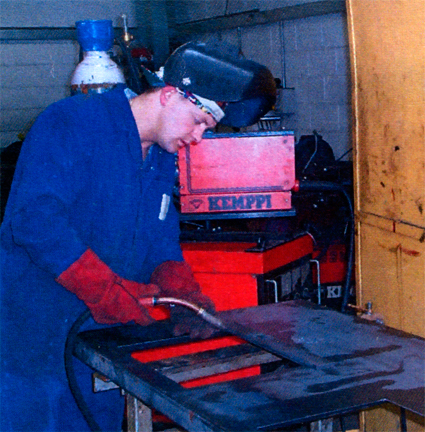 Large area for Welding, Repair and Assembly, including a Hydraulic-Press (100Tonnes) and a heavy-duty forklift.
Our MIG and TIG Welders cover a wide range of parts and machinery, in a variety of materials including Mild-Steel, Stainless-Steel and Aluminium.
Full access to high quality Profile-cut and Laser-cut Parts.
Brazing and Soldering facilities.
On-Site Engineering Support

IPS Engineering site support can improve your business performance by reducing plant down-time and extending the service life of your plant and machinery.
Our experienced and time-served Engineers will inspect and measure worn or damaged parts, action the remedial work, and then fit the replacement or repaired parts on your site.
Our Service Vans will transport large parts and machinery to and from site, along with mobile welding plant and repair equipment.
Line Boring Specialists


Line Boring Services Include:
Horizontal and Vertical Line Boring using automatic welding and line boring
equipment with only 1 No. setup.
In line boring (also in blind holes) from Ø42mm to Ø400mm
Internal Welding (also in blind holes) from Ø42mm to Ø400 mm
External Welding from Ø20mm to Ø250mm
Tapping from Ø5mm to a maximum of Ø15mm
Drilling from Ø8mm to a maximum of Ø45mm
Facing bosses creating circlip grooves –
External Machine from Ø45mm to
Ø400mm
Examples of Machinery that can be repaired by Line Boring:
Excavators
Loading Shovels
Quarry Trucks
Buckets
Arms and Links
Cranes